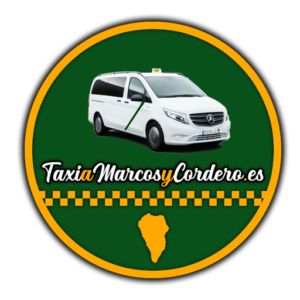 Taxi service towards the Path of Marcos and Cordero
The Marcos y Cordero Springs trail is the most special route on La Palma and even the Canary Islands. An experience that leaves no one indifferent.
Main Routes and Usual Routes of our Taxi service
Los Tiles - La Laguna de Barlovento
Our 4x4 taxi becomes a great ally in this wonderful route where we enjoy the laurel forest.
Pico de La Cruz - Los Sauces - San Andrés - Charco Azul
Another path of great beauty and uniqueness is the one that descends from the summit of La Palma to the sea itself, in the municipality of San Andrés y Sauces.
Charco Azul Natural Pools
This coastal enclave are natural pools located in Puerto Espíndola within the municipality of San Andrés y Sauces.
Cubo de La Galga
Our 4x4 taxi can also help you get to know the Cubo de La Galga (Puntallana), another star trail on La Palma.
La Fajana Natural Pools
La Fajana is a tourist enclave in the municipality of Barlovento that consists of three natural pools of great beauty and uniqueness.
Other Routes and Destinations
Our 4x4 taxi service, in addition to the Marcos and Cordero Springs, offers transfers to many other trails and places of interest on La Palma.
Do you want information by whatsapp about our taxi routes?
You can also use our chat
Displacement towards the Marcos y Cordero trail
It is the water route, it is the Marcos and Codero springs. The 4x4 taxi will help you make the route an even more unforgettable experience.
20 years making trips to the Hiking Routes or to any point of La Palma
La Palma has numerous routes for hiking and enjoying the nature that the island has to offer. Our taxis will take you to the beginning of these routes and will pick you up at the end so you don't have to worry about anything.